New plan for Red Funnel's East Cowes ferry terminal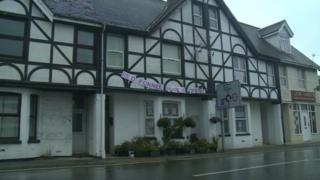 Ferry operator Red Funnel has announced a new two-phase plan to expand its terminal on the Isle of Wight.
Proposals that would have meant the demolition of a number of businesses and homes on Dover Road were refused in April.
The firm says its new plan will leave nearby properties unaffected for the time being.
It said longer-term plans to relocate businesses were already being discussed and talks with homeowners were planned.
Red Funnel had initially proposed using compulsory purchase orders (CPOs) to acquire the properties but the scheme was met with strong opposition from residents.
It said it had found a way to increase capacity in the short term and hoped the new proposals would mean a long-term solution could be found without resorting to the use of CPOs.
Chief executive Kevin George said: "Ideally, we would like that land, however, the way we intend to approach that is to talk directly to the residents and businesses that are in Dover Road and see if we can and find a solution that works without the threat of a compulsory purchase order."
When asked why the company did not use this approach initially, Mr George said: "Because, I think there had to be some reason at the end that people would come to the table."
Mr George said talks were already under way to relocate neighbouring businesses to Kingston Marine Park.
But he did not rule out attempting to seek compulsory purchase orders in future if negotiations with homeowners failed.