Fawley oil refinery pay row strike called off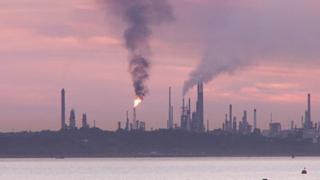 Strike action at Fawley oil refinery in Hampshire has been called off after employers agreed a "pay parity" deal for foreign staff.
The Unite union claimed foreign workers employed by Nico Industrial Services were being paid less than half what their British counterparts earned.
A 24-hour walkout at the Esso refinery was held earlier this month and another stoppage had been planned.
The union said a "pay parity deal" had been agreed with the Italian company.
It had claimed foreign contract workers, mainly Bulgarians and Italians, were being paid £48 a day while other workers employed by the company received £125.
About 20 workers were due to strike from midnight. An overtime ban was also in place.
In a statement, a Unite spokesman said that, following talks with the company, a pay parity deal would be back dated to September.
"Unite will also be recognised for collective bargaining purposes by the employer," the spokesman added.
"Unite looks forward to working with the company in a constructive fashion in the future."
Nico Industrial Services is yet to comment.