Portsmouth Victoria Cross hero John Leak stone unveiled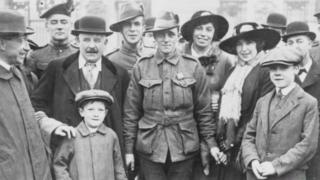 A commemorative stone has been unveiled in memory of a World War One hero.
John Leak, from Portsmouth, was awarded the Victoria Cross for his part in capturing an enemy stronghold in the Battle of Pozieres in 1916.
The unveiling of the paving stone at the Jubilee Fountain in Commercial Road, Portsmouth, took place exactly 100 years after his act of bravery.
The ceremony was led the by Lord Mayor of Portsmouth David Fuller and HM Lord Lieutenant of Hampshire Nigel Atkinson.
Pte Leak was born in Portsmouth in 1892 and emigrated to Australia at a young age.
In January 1915, at the age of 22, he joined the Australian Imperial Force in Rockhampton and fought in Gallipoli before going to the Western Front in 1916.
On 23 July 1916, his unit fought in the Battle of Pozieres - an intense two-week struggle for a French village during the Battle of the Somme.
During an enemy attack, Pte Leak ran out of his trench under heavy machine-gun fire and threw bombs into the enemy trench and continued to do so as his party was driven back, being the last man to withdraw at each stage.
When reinforcements arrived, they were able to recapture the whole trench.
He returned to Australia at the end of the war and was discharged in May 1919.
Pte Leak is one of four Portsmouth recipients of the Victoria Cross, the highest military award.
The memorial forms part of a government campaign to lay stones at the birthplaces of all Victoria Cross recipients during the four years that mark the 100th anniversary of World War One.