Hampshire waste and recycling centres' one-day closures approved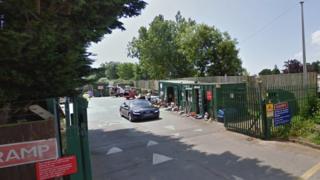 Plans to reduce opening hours and introduce charges for waste and recycling centres across Hampshire have been approved.
A £2 per visit charge will be payable for people from outside the county and centres will close for one day a week.
The county council hopes the move will save the authority up to £1.55m.
It had considered shutting up to 12 sites, but reconsidered after 92% of people opposed the closures during a consultation.
As well as closing every Thursday, the centres will open two hours later at 11:00 BST from January, Hampshire County Council said.
During the winter the sites will close at 16:00 and in the summer they will shut at 18:00.
There will also be charges from October this year - which are yet to be fixed - for materials classed as "DIY construction waste", including soil, plasterboard and wooden fence panels, and for trade waste from "small and medium sized businesses".
However, from January businesses will not be able to dispose of trade waste at weekends.