Arson hit Farnborough chapel to be 'fully restored'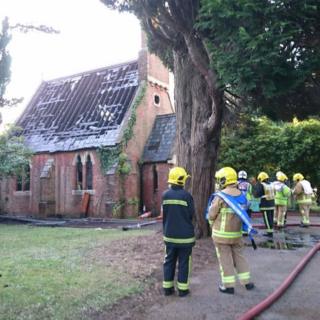 A Victorian chapel severely damaged in a suspected arson attack is to be "fully restored".
The disused Victoria Road Cemetery chapel in Farnborough was gutted by the blaze on Monday evening.
Rushmoor Borough Council said the chapel, which was built in 1859, was included on the authority's list of buildings of local importance, and was "held in great affection locally".
Two boys aged 11 and 12 were arrested on suspicion of arson and bailed.
Councillor Barbara Hurst, secretary of The Farnborough Society, said: "We have been working hard on plans for the future of the chapel for some time, to turn it into a columbarium for the storage of cremated remains, and the community has been incredibly supportive and generous towards our fundraising campaign.
"The chapel is important in the history of Farnborough because it was designed and built by local people and we have the documents to prove it.
"The tragedy is that the building was completely original, and much of that is now lost."