Southampton Marwell Wildlife zebra sculptures vandalised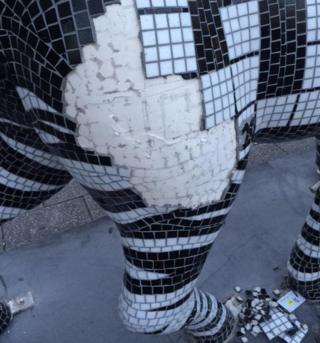 Two zebra sculptures have been vandalised, a day after being put in place as part of a charity art trail.
One life-sized model was pushed over at its location in Above Bar, Southampton, while another was damaged in Western Esplanade. They are part of the Zany Zebra trail in aid of Marwell Wildlife.
Artist Will Rosie said he was "just numb" after seeing the damage.
Marwell Wildlife said the sculptures had been taken away for repair.
Chief executive James Cretney said: "We are hugely disappointed that an event gaining such immense community support should be jeopardised by the actions of a minority."
Mr Rosie's zebra, named Chris Cross, with a design inspired by crossword puzzles, was among 150 put in place on Tuesday.
He said his "heart sank" when he noticed the damage on Wednesday evening while viewing the zebras with his family.
"It's literally been ripped off the steel plates embedded in the fibreglass - obviously some great pressure has been put on it. There are cracks in the fibreglass.
"It can't be mindless - they've decided to do this, which is unfortunate as they are amazing creatures which give a real buzz to the city."
Marwell confirmed a second vandalised zebra, named Snappy, had also been removed on Thursday morning.
Hampshire police confirmed a report of criminal damage was being investigated in relation to the incident in Above Bar.
Officers appealed to anyone who may have witnessed the damage being caused, between 14:00 and 18:30 BST on Wednesday, to get in touch.
Earlier this year another of the zebras was stolen from Bassett, Southampton, and later found in a back garden in Shirley.