Isle of Wight school crossing patrols 'face the axe'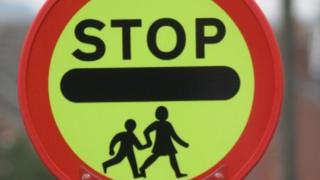 Nearly half of the Isle of Wight's school crossing patrols are facing the axe after the council said it was withdrawing funding.
The authority said it was no longer in a position to fund its 17 lollipop patrols but alternative funding sources had been found for nine schools.
It said crossings at the remaining eight would end, leaving 13 council staff at risk of redundancy.
The remaining patrols will continue to be controlled by the council.
The council said Londis supermarket in Nettlestone had agreed to fund the patrol for Nettlestone Primary School.
The cost of other crossings would be met by the schools themselves.
Oakfield Primary School has said it will set up a walking bus to start in September.
Public protection councillor Phil Jordan said: "I am heavy hearted that some of our locally cherished, but non-statutory, crossing patrol services will be lost.
"Having exhausted conversations with the remaining schools in order to secure funding to retain their service, the council is now in talks with other local stakeholders to see if they would be willing to step in a save those services facing the axe."
A council spokesman added: "The responsibility to safely get children to and from school rests with parents, not the local authority."
---
The schools keeping their patrols are: Hunnyhill Primary, Green Mount, Bembridge Primary, Broadlea Primary, Haylands Primary, Queensgate Primary, St Francis Primary, Nine Acres Primary and Nettlestone Primary.
The schools set to lose their patrols are: Ryde Academy, Sandown Academy, Christ the King, Wroxall Primary, Oakfield Primary, Dover Park Primary, Gurnard Primary and Carisbrooke Primary.