Fawley refinery strike over 'half pay' foreign workers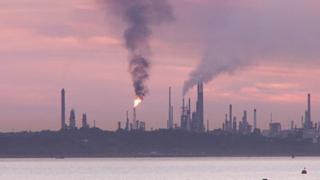 Workers at the Fawley oil refinery in Hampshire will be striking for 24 hours amid claims foreign workers are being paid less than half the amount of of their British counterparts.
The Unite union says foreign contract workers employed by Nico Industrial Services were being paid £48 a day while other workers received £125.
About 20 workers employed by the Italian company will strike for 24 hours from 00:01 on Thursday.
The BBC has asked Nico for a response.
Another stoppage is planned for Wednesday 27 July. The action also includes an overtime ban from 18 to 29 July.
Unite said the Nico workers, mainly Bulgarians and Italians, were being paid about £48 for a 10-hour day, while the 270 other workers on the site, employed by other contractors, earned about £125 a day.
British workers employed by Nico are also paid £125 a day, according to the union.
Unite regional officer Malcolm Bonnett said: "This dispute is about trade union recognition so that our members working for Nico receive equality of pay and terms and conditions. This is a dispute about basic fairness in the workplace.
"We call on the Nico management to get around the table and talk about these important issues and avoid this dispute escalating."
The union said the strike would slow up the site's refining process because the specialist workers were hired to clean out the catalyst converter tanks.