Tech firm Seagate to close Havant plant and cut 325 jobs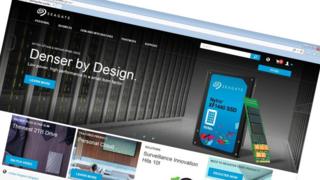 About 325 jobs are set be be lost in Hampshire after technology firm Seagate announced plans to restructure its global business.
The company, which designs and manufactures hard drives, is to close its development centre in Havant next year.
It blamed a downturn in demand for hard disk drives (HDD) compared to solid state drives (SSD).
The firm said it aims to cut 14% of its global workforce by the end of 2017.
A spokeswoman said it had "made the difficult decision to ramp down several company facilities".
"It's not easy to make decisions that affect people's lives in this way and we regret that approximately 324 employees will be affected by this action."
In recent years, the market for hard disk drives has seen increased competition from the faster, more efficient SSDs.
Mobile devices, the biggest growth sector in hardware, use SSD rather than HDD
Seagate currently manufactures both, but its share in the SSD market is much lower than its competitors.