Milford-on-Sea beach huts and seafront revamp plans approved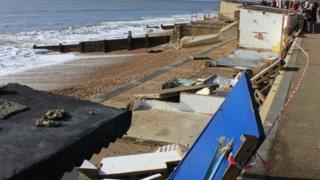 Replacement beach huts and seafront revamp plans following storm damage in 2014 have been approved despite a £1.1m hike in costs.
New Forest District Council said rising construction costs and extra work needed on the promenade meant the cost of rebuilding 119 new huts at Milford-on-Sea had risen to £2.36m.
Work will also include building a new sea wall.
Construction is expected to start in September and end in April next year.
The scheme will also include rebuilding and widening the lower promenade, extending the upper promenade out over the new huts to incorporate a public walkway, and improving access for wheelchairs and pushchairs, the council said.
Most of the privately-owned concrete huts were destroyed by waves and high winds during the 2014 St Valentine's Day storm, with the rest requiring demolition later.
A budget of £70,000 set aside for previously planned improvements to the seafront steps will be put towards the costs, the authority has agreed.
The beach hut owners, who pay a combined annual site rental of £45,600 per year, are contributing a total of £429,877 towards the cost of replacing the beach huts, the council said.