Portsmouth Hot Walls reopens after £1.75m art studio revamp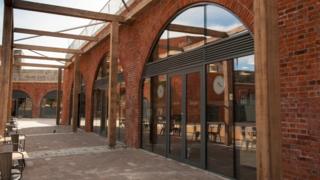 Part of a historic monument alongside Portsmouth harbour has reopened as an arts centre after a £1.75m revamp.
Empty arches at the Hot Walls, used in the past as an artillery barracks, have been converted into 13 working studios for artists, designers and creative companies.
The Hotwalls Studios aims to boost tourism and the city's arts sector.
Portsmouth City Council, which part-funded the project, said the transformation was "remarkable".
The Hot Walls is part of Portsmouth's harbour fortifications, parts of which date back to the 15th Century.
The arches on Broad Street, Old Portsmouth, have been given glass frontages as part of the redevelopment, with artists given the opportunity to apply for leases on studios.
Linda Symes, the authority's cabinet member for culture, said: "The project has given a new lease of life to this incredible heritage site, while helping the city's creative industries and providing new jobs and business opportunities to strengthen the city's economy."
The redevelopment received £1.75m from the government's Coastal Communities Fund, with £100,000 coming from the city council and £40,000 from Partnership for Urban South Hampshire.