Portsmouth City Council expands UK property portfolio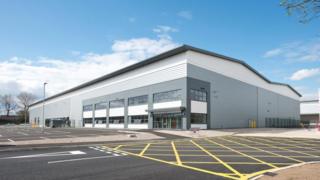 A Hampshire council has bought a parcel distribution warehouse near Birmingham as part of a new income drive.
The £12.4m purchase of a DHL depot is the fourth property deal completed by Portsmouth City Council since November.
Other purchases have included an industrial unit in Gloucestershire and a supermarket in Somerset.
Liberal Democrats said none of the investments were in Portsmouth, but ruling Conservatives said they were targeting the "highest yields".
Portsmouth City Council investments since November 2015
Industrial unit, Quedgeley West Business Park near Gloucester (£8m)
Waitrose store, Crewkerne, Somerset (£13.2m)
Matalan store, Swindon (£9.7m)
DHL parcel distribution warehouse, near Birmingham (£12.4m)
Council leader Donna Jones said their property investments had generated £2m in the last year, helping to ease the impact of government spending cuts.
Ms Jones said: "It's not about the location, it's about the safest highest yield I can get, wherever that may be in the UK to generate the biggest return so I can keep libraries and public toilets open.
"We're trying to run the city more like a business and this is part of it."
'Terrible message'
But the leader of the opposition Liberal Democrat group, Councillor Gerald Vernon-Jackson, said the decision to invest elsewhere in England sent "a terrible message to the people of Portsmouth".
"This is another property where another council will get the business rates, not Portsmouth," he said.
Tom Southall, head of property investment, said Portsmouth's £110m budget for property was large in comparison to other authorities.
He said the money was borrowed at relatively low rates from the Public Works Loan Board, with income generated by renting to established tenants.
Mr Southall said: "All property has risk... but if you get good property in good locations, you're always going to be able to let it."