Royal naming for new Red Jet 6 passenger ferry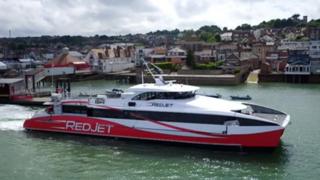 A new £6m cross-Solent high-speed ferry has been officially named.
Red Funnel's Red Jet 6 catamaran is due to enter service between Southampton and West Cowes. The 275-capacity vessel is the first of its kind to be built in the UK for 15 years.
Unlike the rest of the firm's passenger fleet, Red Jet 6 offers on-board toilets and will enter service after sea trials and crew training.
The Princess Royal named the vessel at a ceremony on the quayside in Cowes.
Built by Shemara Refit LLP in Cowes, Red Jet 6 entered the water for the first time in May.
Kevin George, chief executive of Red Funnel, said: "It was about building a new vessel on the island, using the marine engineering skills resident on the island and, of course, a vessel that would serve the island."
More than 1.1m passengers use the high-speed service between Southampton and West Cowes each year.