Four hospitalised over 'rogue' Isle of Wight ecstasy tablets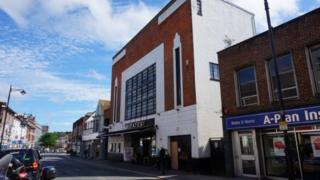 A "rogue batch" of ecstasy tablets on the Isle of Wight has led to four men being treated in hospital, police said.
It is believed three of the four men - aged in their late teens and early 20s - bought the tablets from someone inside Yates's bar on High Street, Newport, on Friday.
One of the four affected remains in a serious condition.
An 18-year-old man has been arrested in connection with the investigation and is currently in police custody.
The tablets, which police said "could be life-threatening", have made people appear drunk, become very aggressive, frightened and lose consciousness.
People who have recently bought what they believe are ecstasy tablets on the island, are being encouraged to hand them in for analysis with assurances from the police that anyone who does so will not be prosecuted for possession of illegal drugs.
The force said Yates's was "working closely with police to assist them in this matter".