Mother and son set Isle of Wight kitesurf round-the-island records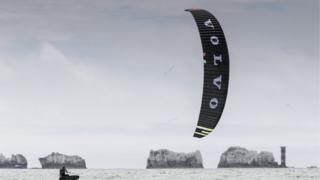 A mother and her teenage son have set benchmark records for the fastest circumnavigation of the Isle of Wight on kiteboards.
Guy Bridge, 16, completed the lap on Thursday in two hours, 32 minutes and 25 seconds to become the fastest single-handed sailor round the island.
His mother, Steph Bridge, claimed the spot for the fastest female in three hours, three minutes and 24 seconds.
The World Sailing Speed Records (WSSR) will formally ratify the timings later.
WSSR said: "This is the first time there has been an official attempt in these two categories. It's a benchmark."
Guy, who beat his brother, Olly, 18, in the race by just two seconds said: "It feels amazing but my legs were burning - it was tough."
The trio from Exmouth reached speeds of 25knots during the 55-mile (89km) race which started and finished off the Royal Yacht Squadron line in Cowes.