Muslim event cancelled over anti-immigration demo clash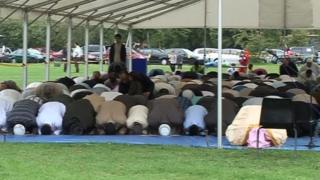 A Muslim celebration has been cancelled because it clashes with a planned rally by anti-immigration activists.
The British Bangladesh Cultural Academy (BBCA) said safety concerns had led it to cancel the Eid al-Fitr prayer event planned at a Southampton park.
The decision comes as the South Coast Resistance group announced plans to demonstrate in the city on Saturday.
Thousands had been expected at the annual Islamic event.
Shere Sattar, BBCA chairman said: "We have decided it would be best if we cancel the huge gathering considering the political situation and unrest in the UK after leaving the EU and the rise of racist activity and comments around the other cities."
'Unrest in the UK'
The far-right group said it planned to hold a march through the city under the banner "Refugees Not Welcome".
A counter-demonstration against the far-right march has also been announced by the Southampton Campaign Against Racism and Fascism.
The group said it would stand "together with our diverse communities in solidarity and unity".
BBCA said it hoped to hold a celebration for Eid al-Adha, the three-day Islamic festival after the Hajj, known as the Feast of the Sacrifice, in the city centre as planned in September.
Hampshire Constabulary said it had planned policing arrangements for the demonstrations "carefully".
Its aim, the force said in a statement, was to ensure people could "exercise their right to demonstrate, without the need for police intervention to protect or in some cases, restrict those rights and also to make sure the event is peaceful".
Southampton City Council's communities councillor Satvir Kaur said the authority had a "zero tolerance policy towards racism" and said it was "regrettable" that the committee decided not to host the event.