Flooded Southampton school to remain closed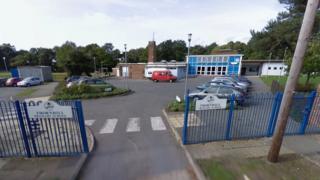 A Southampton school damaged by flooding during Wednesday's storms has been unable to reopen.
Thornhill Primary School in Southampton was forced to close when water poured into the main corridor, library, classrooms, reception and hall.
Head teacher Kerry Stamp said it was the second time in 10 months the school had been flooded.
She said it would remain closed on Monday and was working with the local authority to find a solution.
In a letter to parents, Ms Stamp said: "There has been significant damage to furniture and resources.
"You may remember there was a similar flooding incident before we came back to school in September 2015... We were lucky enough to have a weekend and two inset days following this to ensure the building was compliant with health and safety and get new carpets fitted. However, it is these new carpets which are now again ruined.
"I am working with the local authority to ensure the school can be ready and compliant with health and safety as soon as possible."
The school said it would update parents again on Monday afternoon.