Portsmouth city lottery for good causes agreed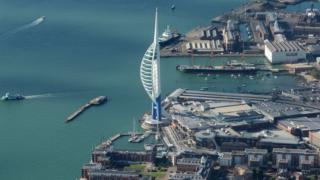 The creation of a council-run lottery in Portsmouth has been given the final go-ahead.
The weekly £25,000 prize draw is aimed at raising money for good causes.
Portsmouth City Council deputy leader Luke Stubbs said he anticipated the scheme would be launched in the next three to five months.
The lottery will be run by an external company, Gatherwell, which runs a similar scheme for Aylesbury Vale District Council.
Mr Stubbs said: "The big thing that will need to be done is to get some advertising and to raise the profile of it so the people know it's there".
Tickets will cost £1 and 60% of sales will go to local causes, with the remaining allowance divided between the prize fund and running costs.
Council leader Donna Jones said: "The Portsmouth Lottery is an innovative way to support charity and voluntary organisations, while the council manages reduced budgets.
"We believe this option, with an external company taking responsibility for the prize fund costs, mitigates any risk to the council.
"We will be encouraging local causes to register as a beneficiary of the lottery."