Common People: 'Horrendous' festival queues complaints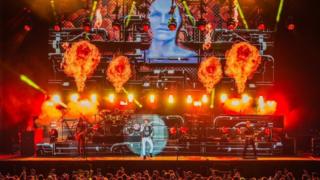 Festival-goers have complained of "horrendous" queues at Common People in Southampton.
Although many praised the performances over the weekend, some people took to social media to complain about a two-hour wait to get on to the site and long queues for food and drink.
Others said there was a lack of security, and anti-social behaviour.
Organisers have apologised and blamed technical problems with the ticket scanners for the queues on Saturday.
"All our efforts went into rectifying the situation and once our scanners were back online we cleared the queue as quickly and safely as possible," a spokesman said.
On Common People's Facebook page, Becky Lowe described the event as "absolute chaos".
Diana Blanchard, who had VIP tickets, said: "It was horrid, the queues system was horrendous and security was a joke as there really wasn't any.
"There was lots of drunks and some really unpleasant behaviour."
Cheryl Judd said: "Two hours to get on yesterday woeful. Get into bigger festivals quicker than that."
However, others users said they enjoyed the experience.
Carl Brooks said: "Took kids, had a blast, course it's gonna be busy, it's a festival!! If you want a quiet time with no queues, watch Glasto on the tele..."
Organisers said it took matters relating to alleged lack of security and anti-social behaviour "very seriously" and urged festival-goers to provide further details so they could be investigated.
A spokesman described the event as "very successful".
He said the security and stewarding plan had been agreed with Southampton City Council, and the team had worked closely with the police and "no concerns were raised" by the agencies.
Five people had to be removed from the site by security teams across the weekend, which was down from 33 last year, he added.
Common People, now in its second year, also featured performances from Duran Duran, Primal Scream, Craig David and Public Enemy.
It also boasted the world's largest bouncy castle.
For the first time, a simultaneous event was also held in South Parks, Oxford.