Paultons Park 'Velociraptor' rollercoaster evacuated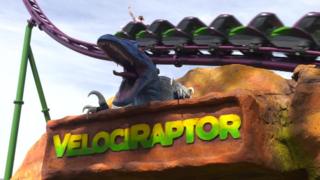 A rollercoaster had to be evacuated after it stopped mid-ride at a theme park in Hampshire.
Passengers were taken off the "Velociraptor" attraction at Paultons Park, near Romsey, on Thursday.
A "well-practised manual evacuation" was carried out and customer safety was their "top priority", the park said.
No-one was hurt and an investigation is under way. The ride was closed for two hours while all other attractions remained open.
Park spokesman Rob Griffiths, said: "Our first priority was to ensure all riders were safely removed from the ride and we are now looking into the cause."
The park said the ride reopened at about 13:00 BST.
The family-owned park has recently undergone a £9m refurbishment.