Camberley man arrested after motorcyclist dies in crash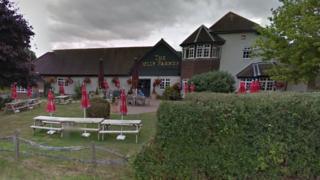 A 50-year-old man from Surrey has been arrested in connection with a motorcyclist's death in Hampshire.
The 52-year-old biker, from Ash, died opposite the Jolly Farmer Pub in Blacknest on Sunday evening.
Police said the man appeared to brake heavily and came off the road on his black Harley Davidson.
Hampshire Constabulary believe a second motorcyclist was involved in the crash, which closed Blacknest Road for five hours.
The 50-year-old man, from Camberley, has been released on bail until 6 September.
Police are appealing for witnesses to the crash to come forward.