Poole Hospital CQC report 'good' but safety highlighted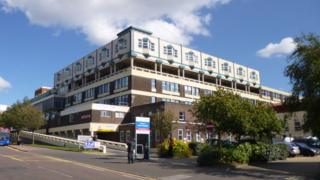 Concerns over patient safety in a Dorset hospital have been raised by the healthcare watchdog.
A Care Quality Commission (CQC) report rated safety at Poole Hospital's maternity, children's and surgery departments as "requiring improvement".
It has called for improvements to staffing levels and better storage of patient records following inspections in January and February.
The hospital said it was pleased 31 out of 39 indicators were rated as good.
It was rated "good" for being caring, effective and well led but was given an overall "requires improvement" rating.
Critical care and medical care were also rated as "requires improvement" over safety.
Maternity, surgery and medical care all received overall "good" ratings.
The hospital's emergency department was rated "good" in all areas.
The CQC report called for action to ensure there was one-to-one midwife care for mothers-to-be.
They said more needed to be done to reduce surgery waiting times and the number of times patients are moved around wards.
'Improvement'
The report also urged better support for patients with learning disabilities and said patient records must be securely stored so as not to breach patient confidentiality.
The chief inspector of hospitals, Professor Sir Mike Richards, said there was "excellent philosophy of care" at the hospital.
"The trust leadership knows what it needs to do to bring about improvement and our inspectors will return at a later date to check on what progress has been made."
The hospital said it was reviewing staffing and had introduced a "patient champion" for patients with learning disabilities
Chief executive Debbie Fleming pointed to the hospital being rated as good in 31 out of the 39 indicators.
"Poole Hospital was inspected at the height of winter, when the NHS nationally was facing unprecedented pressures. Given that the inspectors could not have visited the hospital at a busier time, this evaluation is all the more impressive."