Fireworks store blaze in Southampton 'accidental'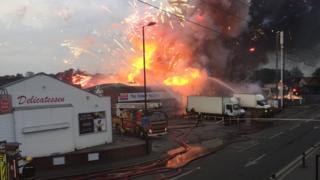 A fire which set off large explosions in a building storing dozens of fireworks was caused accidentally, investigators have said.
Explosives lit up the sky as the fire took hold early on 13 May at Southern Firework Factory in Southampton.
Hampshire Fire and Rescue Service said arson had been ruled out although it gave no further details.
Southampton Council said the burnt out building on Bitterne Road West was unsafe and would have to be demolished.
The authority's emergency planning manager, Ian Collins, said: "It was a spectacular fire which caused an enormous amount of disruption to businesses and local residents.
"It's a very dangerous structure. There are a lot of hazardous materials in there so we need to make sure it's safe for the public.
"We'll continue to monitor the materials and secure the site properly. Because parts of the structure are unsafe, we'll have to look at how to take it down and remove the debris from the site."
A neighbouring florist was also destroyed. An adjoining delicatessen's office was also badly damaged in the fire.
No-one was injured but homes and properties within 100 metres (328 ft) of the fire were evacuated. Bitterne Manor Primary School was also closed.