Six-metre Brockenhurst cycle lane branded 'dangerous'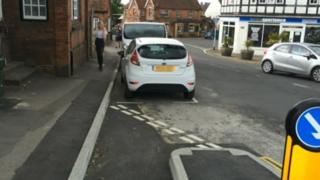 A new six-metre stretch of cycle path in a Hampshire village has been branded "dangerous" by cycle campaigners.
The £6,000 path, part of the New Forest National Park Authority's efforts to boost cycling, links Brockenhurst train station and Brookley Road.
Cycle blogger Tim Barry said it means riders meet parked cars and traffic earlier than they would anticipate
Hampshire County Council insisted it was a safer way to connect the station and village centre.
Mr Barry said he was "baffled" by the new lane, adding: "It's an incredibly short cycle lane which spits you straight out into the back of a parked car. You're also not aware of cars turning right - because it's on corner."
Zak Kempson who works at a nearby cycle hire shop said he would never use it.
"It's a shame to see the money go on something that isn't useful to the community or people visiting the area," he said.
Hampshire County Council, which was commissioned to build the path, said in a statement: "The aim of the scheme was to make it easier for cyclists to turn left onto Brookley Road from the railway station, while also slowing traffic as it turned left onto the side road.
"As with all new schemes, we review them once construction is completed and make any adjustments, as needed."
The scheme was funded by the New Forest National Park Authority (NPA) using money it received through the Government's Cycling Ambitions Scheme.
In 2014 more than £1.5m of the funding, meant for improving cycling in the New Forest, had to be handed back to the government after a cycle hire scheme was rejected by the NPA. Other plans subsequently put forward by the NPA were rejected by the Department for Transport.