Suspected illegal immigrants found in Portsmouth all from African countries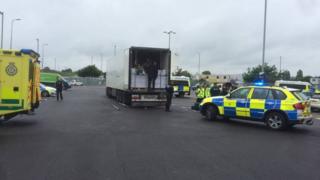 A group of 28 suspected illegal immigrants discovered hiding in a lorry in Portsmouth were all from Africa, the Home office has said.
Ten Sudanese, seven Ethiopian and 11 Eritrean nationals were found by police in the back of an HGV on Saturday.
The Home Office said one person remains in hospital and a minor is in the care of social services.
A Czech driver, 61, arrested on suspicion of helping asylum seekers to enter the UK, was bailed until August.
After being discovered, the men and women were given medical treatment by ambulance crews before being taken into custody by Border Force officers on suspicion of being in the UK illegally.