Portsmouth cathedral tower was 'close to collapse'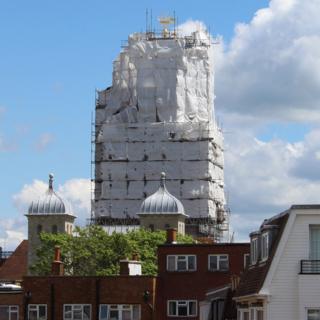 Part of a cathedral tower was "close to collapse" because of rotting wood, conservation experts have said.
Restoration workers said timbers at Portsmouth Anglican Cathedral had "literally turned to powder" and the 17th Century tower was on the verge of collapsing internally.
Some ancient timbers had rotted inside casings of steel or concrete.
Repairs, backed by government grants totalling £681,000, have nearly been completed after five months of work.
The 37m (121ft) landmark tower at the entrance to Portsmouth Harbour was worked on by experts from Dorset-based Daedalus Conservation.
Project manager David Collier said: "My engineer put his thumb on one timber to test it and his thumb went through the steel.
"We think the problems arose from repair work carried out a century ago."
Cathedral spokesman John Bolt said: "Another severe storm on the scale of 2013 would likely have collapsed the tower and destroyed the organ."
Work started in January to dig down from the top of the tower, insert steel props and reconsolidate the masonry.
The cathedral said the repairs were almost entirely supported by two grants totalling £681,000 from the government's First World War Centenary Cathedral Repair Fund.
Work to remove scaffolding from the cathedral is due to be finished by the end of June.
The gilded weather-vane, the "Golden Barque", has been restored to the tower summit after being taken down in October and recoated in gold leaf.