Suspected illegal immigrants found in Portsmouth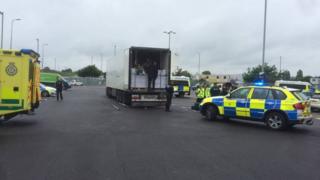 A group of 28 suspected illegal immigrants discovered hiding in a lorry in Portsmouth have been detained.
Police said the men and women were found by officers in the back of the HGV.
They were given medical treatment by ambulance crews and then taken into custody by Border Force officers on suspicion of being in the UK illegally.
The driver of the lorry was also arrested, on suspicion of facilitating illegal entry into the UK.