Michael Freshwater death: £10k reward offered over murder appeal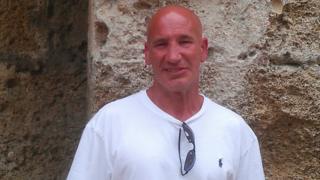 A £10,000 reward has been offered in the hunt for the killer of a man stabbed to death in his home.
Michael Freshwater, 49, was fatally injured at his flat in Westridge Road, Southampton, on 29 April.
Twelve arrests have been made in connection with Mr Freshwater's death to date, but no-one has been charged.
The reward is being offered by Crimestoppers for information leading to the conviction of those responsible.
Julia Hughes, from the charity, said the knock-on effect on the community had been significant and urged witnesses to contact them anonymously.
"We don't ask for any personal details, you won't have to speak to the police, and you won't have to go to court," she said.
Details of the arrests:
Boy, 16, from Kent arrested on suspicion of murder - bailed until 21 June
Boy 17, from London arrested on suspicion of murder - bailed until 12 July
Man, 21, arrested on suspicion of murder and supplying heroin
Man, 22, arrested on suspicion of assisting an offender and conspiracy to supply class A drugs - bailed until 5 July
Woman, 23, arrested on suspicion of two counts of conspiracy to supply class A drugs - bailed until 6 July
Man, 24, from London, arrested on suspicion of conspiracy to supply class A drugs - bailed until 6 July
Man, 25, from Hampshire, arrested on suspicion of conspiracy to pervert the course of justice - bailed until 6 July
Man, 26, 26, charged with perverting the course of justice - remanded in custody
Woman, 30, from Southampton, arrested on suspicion of perverting the course of justice - bailed until 10 June
Man, 36, arrested on suspicion of murder - bailed until 2 August
Man, 43, from Southampton, arrested on suspicion of possession with intent to supply class A drugs - bailed until 5 July
Man, 34, arrested on suspicion of assisting an offender - in custody