Southampton fireworks shop fire: concerns over structure's safety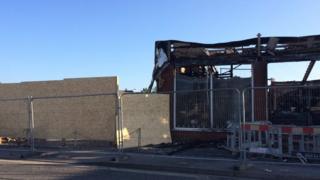 Clear-up work is continuing at the scene of a shop fire in which dozens of stored fireworks were set off, with concerns the remaining structure could collapse.
Loud explosions were heard and fireworks lit up the sky as the fire took hold on Friday morning at Southern Firework Factory In Southampton.
The city council said the burnt-out buildings were "very dangerous".
Hampshire Fire and Rescue Service is continuing to investigate the cause.
BBC reporter Jo Palmer said the scene was now one of "complete devastation".
"The brick structure of the factory stands, but inside there are burnt out windows and blackened twisted remains," she said.
Southampton City Council's emergency planning manager, Ian Collins, said: "It was a spectacular fire which caused enormous amount of disruption to businesses and local residents.
"It's a very dangerous structure. There are a lot of hazardous materials in there so we need to make sure its safe for the public.
"We'll continue to monitor the materials and secure the site properly. Because parts of the structure are unsafe, we'll have to look at how to take it down and remove the debris from the site."
A neighbouring florist and delicatessen were also destroyed.
No-one was injured but homes and properties within 100 metres (328 ft) of the fire were evacuated. Bitterne Manor Primary School was also closed.