Charity volunteers to help struggling families in Southampton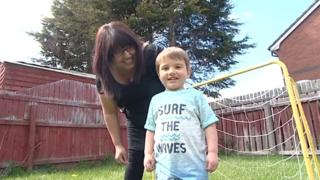 Volunteers from a charity are to help struggling families in Southampton after the city council approved cuts of £1m to its children's services budget.
The authority has partnered with the Safe Families for Children charity.
Volunteers will be paired with families where at least one child is under the age of ten and could launch in October.
Businessman and philanthropist Sir Peter Vardy said the scheme would create "significant financial savings" for the council.
Sir Peter's Vardy Foundation helped establish the charity in the UK which is based on a model adopted in the US.
It places emphasis on working with churches to recruit and train its volunteers and among other things provides mentoring to parents and short-term accommodation for children.
Simon Letts, leader of Southampton City Council, said the council will work with the charity to provide designated families with support for up to six months.
He said the scheme would cost the council £60,000 but could save money in the long term by preventing children from being taken into care.
Mr Letts said: "The big cost in children's care is the 560 young people that the council has to care for every year and that number has nearly doubled over the last five to six years. The only way you anything about that is by intervening early."