Georgina Edmonds murder: Convicted killer begins appeal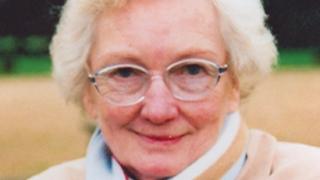 A man convicted of battering a pensioner to death after facing a second murder trial has begun a legal effort to clear his name.
Matthew Hamlen, 37, was jailed for a minimum of 30 years in February after the police found new DNA evidence.
Jurors heard Georgina Edmonds, 77, was beaten with a marble rolling pin, stabbed and tortured at her home in Brambridge, Hampshire in 2008.
Hamlen has applied for permission to appeal against his conviction.
Mrs Edmonds was found by her son Harry in her cottage, where she lived alone, on the banks of the River Itchen.
Following a two-year manhunt, during which almost 2,000 people were DNA tested, Hamlen was eventually charged with murder in 2010.
His DNA profile was incomplete, however, and he was acquitted in 2012.
But detectives later found new DNA evidence on Mrs Edmonds' blouse.
Hamlen was rearrested and charged with murder for a second time.
At the retrial in January, a forensic scientist told a jury at Winchester Crown Court that it was 26 million times more likely that DNA on the pensioner's clothes was from Mr Hamlen, rather than from someone unrelated to him.
A single judge will now decide whether to allow Hamlen's application to proceed to a hearing in front of three judges at the Court of Appeal.