Cross-Channel hovercraft Princess Anne 'will be saved' after campaign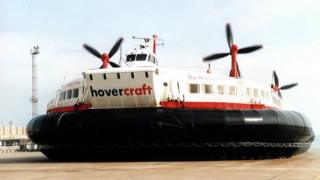 A cross-Channel hovercraft under threat of being scrapped will be saved after a successful bid by a museum.
The Princess Anne has been under threat since its site owners, the government's Homes and Communities Agency (HCA), announced plans to develop the land.
The vessel is stored at the Hovercraft Museum on the former HMS Daedalus naval base site, Lee-on-Solent.
HCA said it was "in the process of agreeing a lease for the Princess Anne with the Hovercraft Museum".
The museum said it was "delighted" and was in "promising negotiations" with HCA.
It said it planned to restore the former Hoverspeed craft and allow it eventually to be opened to the public.
The museum's trustee Ben Avery said former Hoverspeed engineers who recently inspected the 250-tonne vessel, were "pleasantly surprised by the condition of the critical structure on The Princess Anne".
The HCA said it would consider options for the second hovercraft, Princess Margaret, which is understood to be in a worse state of repair, once the lease for the Princess Anne was complete.
Museum volunteers started a petition to save the hovercraft in January after HCA announced it wanted to develop the land for homes.
More than 21,000 people have signed the petition to date.
The Princess Margaret and Princess Anne Hoverspeed vessels carried up to 400 passengers and 55 cars between Dover and France for 30 years.
They were taken out of service in 2000 and have since been stored at Lee-on-Solent.