Southampton Townhill Park: First phase of revamp approved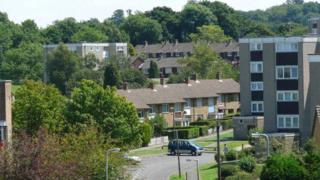 The first phase of a development to transform a 1960s Southampton housing estate as been approved by councillors.
Southampton City Council has granted planning permission to redevelop Townhill Park.
Planning committee members voted to approve the first of the three phase development for 276 homes in up to seven storey buildings.
Under the proposals 426 existing council-owned flats will be demolished and 675 new homes built.
It will also see a new public green and shops constructed.
Residents have already been moved out of a number of council blocks while the work takes place.
Building work is expected to begin on the first phase in Meggeson Avenue next year.
The full development is expected to take up to 10 years to complete.