Isle of Wight tidal project failure 'would ruin shellfish beds'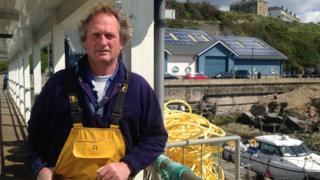 Shellfish beds could be "useless for centuries" if a planned tidal power project fails, Isle of Wight fishermen have claimed.
Perpetuus Tidal Energy Centre (PTEC) has secured approval for up to 60 seabed turbines off the island.
The company aims to generate electricity to power 15,000 homes.
Yarmouth fishery owner Geoff Blake said authorities must ensure the seabed is not "littered with redundant giant tidal devices" if the project fails.
The Marine Management Organisation (MMO) approved plans last month for up to 30 structures that will protrude about 9m (29.5ft) above sea level, off St Catherine's Point.
'Prove unreliable'
Mr Blake has since written to the MMO raising fishermen's concerns the project would inevitably fail because of the technical challenges of operating in a "harsh" marine environment.
He said: "We're of the opinion that whatever machines they put there will prove unreliable.
"The repair costs could possibly exceed installation costs and eventually the project could just run out of money and all these giant machines would be abandoned on the seabed, rendering the fishing grounds useless for centuries.
"We want to insist on the MMO licence that everything that is placed down there has a viable recovery plan."
An MMO spokesperson said: "We've not had a marine licence application relating to the removal of the devices (partly because this could in theory be in 20+ years' time)."
Under the Energy Act 2004, the Department of Energy and Climate Change (DECC) has responsibility for decommissioning the devices.
Marine biologist Frank Fortune, who carried out the environmental impact assessment on behalf of PTEC, said: "I don't think it's going to fail. A lot of trial work has been done in places like Orkney which has an extreme environment.
"What's likely to happen is that whole devices would be recovered and taken into the shore for repair. The suggestion of these being abandoned on the seabed - I would very much hope that's not going to be the case."
PTEC said it hoped to start building the project in 2017 with the turbines running by late 2018.