Family plea over son's mystery death in Weymouth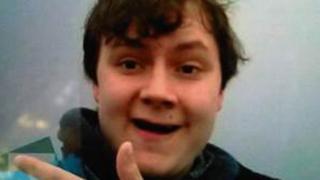 The family of a teenager whose body was found in the sea have called on members of the public to come forward and help find out what happened to him.
The body of 18-year-old Louis Harris was recovered by RNLI crews close to Weymouth ferry terminal on 15 March.
Louis, from Dorchester, went missing on Valentine's Day. Police are not treating his death as suspicious.
"We still don't know exactly what happened that night," a family statement said.
Louis was celebrating a friend's birthday when he went missing.
His parents Holly and Graham said: "[We] would urge anyone who has any fragment of information about Louis, anyone who saw him or spoke to him that night in Weymouth, to please come forward to help us with some answers.
"Any CCTV or webcam recording around the junction of Custom House Quay and East Street from 4:30 to 5:00 BST may provide the answers we are looking for."
They described him as a "very thoughtful, sensitive and caring lad who would not hurt a fly, had a wicked sense of humour, and a great love and creative talent for music".
"Every day is a struggle without him," they said.