Santa lookalike jailed for sex offences against girls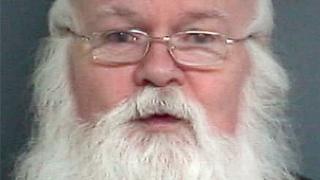 A man known to locals as "Father Christmas" has been jailed for 22 months for offering two young girls cash to expose themselves.
Lawrence Lewis, described as having a bushy beard, white curly hair and being well-built, committed the offences in a pub in Waterlooville, Hampshire.
He was not in character at the time of his crimes, but he was banned from playing Santa for 10 years.
Lewis, 57, claimed he had been too drunk to remember what happened.
'Dirty old man'
The judge at Portsmouth Crown Court said the "unusual case" did not "fit within normal guidelines".
Recorder Shamim Qureshi said: "When Father Christmas turns out to be a dirty old man asking to look at their underpants and private parts, we have a very different situation regarding the Sentencing Council."
The court heard how Lewis had approached an eight-year-old girl on two occasions at the Wellington pub in Waterlooville, in December and January, and offered her money to expose herself to him.
On another occasion, he made the girl's 11-year-old friend a similar offer.
Robert Forrest, prosecuting, said: "This defendant was a regular of that public house; he was known by several other regulars as Father Christmas and Santa because of his appearance at the time."
Mr Forrest told the court that Lewis had asked the younger girl six times to expose herself to him for a payment of £3.
He added that Lewis was "known on several occasions to act as Father Christmas", and asked for the Santa ban because he said there was an "obvious risk of harm".
Lewis, of Springwood Avenue, Waterlooville, pleaded guilty to three charges of inciting a girl under the age of 13 to engage in sexual activity.
As well as being barred from playing the role of Father Christmas as part of a sexual harm prevention order, he was also ordered to sign the sex offenders register for 10 years and told to pay a £100 victim surcharge.