Jobs at risk as Hampshire pharmaceutical company proposes closing office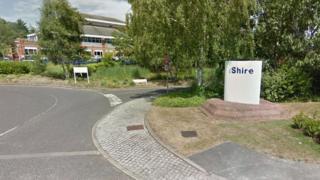 A Hampshire-based pharmaceutical company has proposed leaving the county by the end of next year.
Shire Pharmaceuticals is looking to close its office at Basingstoke's Hampshire International Business Park and relocate to London and Dublin.
It employs 270 people at the site and said it hopes to retain the "majority" of existing roles.
A consultation with employees is set to finish at the end of July, when more details will be made available.
'Next chapter'
Sebastian Stachowiak, Shire's UK and Ireland general manager, said the company started in the Basingstoke area 30 years ago.
He said: "We appreciate the continued commitment and support of our employees based here, and of our local community partners.
"However, we believe the time is right to bring us closer to our customer base and our key partners within larger life science communities, as we move towards our next chapter of growth."
Shire previously also had sites in Andover and Overton and currently employs 350 across the UK.