Norovirus denies Cunard's QM2 liner access to Jordan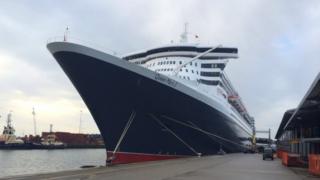 The Queen Mary 2 cruise liner has been refused entry to Jordan and Oman due to an outbreak of the norovirus vomiting bug.
Cunard described it as a "minor" outbreak and said there were two confirmed cases onboard.
Some passengers have spoken of "unrest" onboard after missing the opportunity to see Petra in Jordan.
The liner is on a 120-day world voyage from Southampton and is due back on 10 January.
The ship, which is carrying 2,403 passengers, has been denied permission to dock at Salalah in the Oman and in Aqaba, Jordan, "despite extensive negotiations with relevant port authorities", a Cunard spokesman said.
Passengers Peter and Jackie Seely said the outbreak had left Cunard "with a rather large headache because there is a lot of unrest with passengers who have been denied their chance to get to see Petra in Jordan".
Guests who have booked shore excursions "will receive automatic refunds and the ship will continue en route through the Suez Canal", the spokesman for the cruise liner said.
Noroviruses, sometimes known as "winter vomiting viruses", are stomach bugs which cause the sudden onset of nausea followed by projectile vomiting and diarrhoea.