Isle of Wight tidal energy turbine farm approved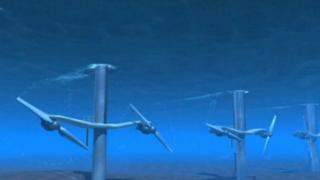 A tidal energy farm off the Isle of Wight has been approved.
Perpetuus Tidal Energy Centre (PTEC) has secured approval from the Marine Management Organisation for up to 60 seabed turbines off St Catherine's Point.
Up to 30 structures could protrude about 9m (29.5ft) above sea level at the lowest tide.
PTEC claims the turbines, which could be running by late 2018, could generate electricity to power 15,000 homes.
The firm said it hoped to start building the project in 2017.
Plans for a control station needed for the project were approved in June by Isle of Wight Council.
The scheme has met with criticism from fishermen and businesses on the island who claim it will damage shellfish beds.