Extra time to quiz three over Winchester armed robbery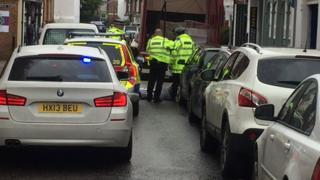 Police have been given more time to question three men following an armed robbery at a jewellers in Winchester.
The raid happened at the Justice Jewellers shop in Parchment Street on Friday morning.
The three, two 21-year-old men from Hertfordshire and a 28-year-old man from London, were arrested on suspicion of robbery nearby.
Hampshire Constabulary said detectives had been granted an additional 12 hours to hold the men for questioning.
Police said during the raid, two of the men entered the jewellers wearing motorcycle helmets and armed with an imitation firearm, while one waited in a van outside.
Armed officers were sent to the area shortly after 09:00 BST.
Police investigating said what is believed to be some of the stolen property recovered following the robbery was being examined.
Anyone with information is urged to contact police.