Alan Priddy round-the-world powerboat record bid back on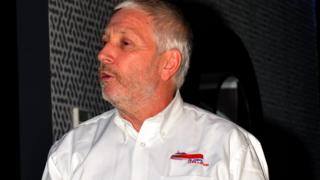 A powerboat racer's bid to log the fastest round-the-world lap - which was sunk when a sponsor pulled out - is back on.
Alan Priddy was due to make the 24,000 mile voyage last year, but had to postpone the record attempt.
The adventurer, 63, will be joined by a team of eight, hoping to beat the current record of 60 days 23 hours 49 minutes, by more than a week.
They are expected to set off from Gibraltar on 23 October.
Mr Priddy said: "This project really is the culmination of a lifetime's work for me.
"My team and I will sail round the world quicker than anyone has ever done. In doing so we will bring the world record back to Great Britain were it belongs."
Mr Priddy's 24m (80ft) craft , which runs on a mixture of diesel, water and emulsifier, is due to be built on Hayling Island and is expected to start sea trials in September.
The team will call at Puerto Rico, Acapulco, Honolulu, Guam, Singapore, Oman and Malta to take on fuel before finishing back in Gibraltar.
New Zealand skipper Pete Bethune holds the current power boat circumnavigation record, set in June 2008.