Cancer patient's final wedding wish granted by Portsmouth hospital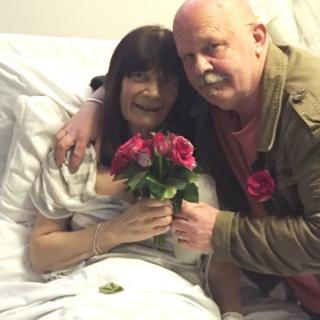 A cancer patient's dying wish was granted when hospital staff organised a wedding just a day before her death.
Jill Smurthwaite, 62, died on Monday, 26 hours after marrying partner of 28 years Rob Capaldi.
Staff at Portsmouth's Queen Alexandra Hospital contacted registrars, and organised flowers, food and confetti for the bedside ceremony.
Mr Capaldi said he would remember the wedding, which was put together in just five hours, forever.
'Brave and determined'
Ms Smurthwaite, who was diagnosed with lung cancer in February, was admitted to hospital on Sunday.
She had confided in Dr Rebecca Mallinson it was her wish to get married at what she knew would be her final admission.
Staff then contacted a chaplain and registrars while hospital caterers provided buffet food and cake.
Mr Capaldi's four daughters acted as bridesmaids.
He said: "The wedding did mean a lot to us and I will remember it forever.
"I really do want to say thank you to everyone, I can't put into words what a difference their kindness has made."
Emergency medicine consultant and associate clinical director Eliot Wilkinson said the wedding was "an extraordinarily touching display of compassion and profound humanity" which "helped to fulfil the dying wish of an incredibly brave and determined woman."