Council 'should apologise' over Silver Hill development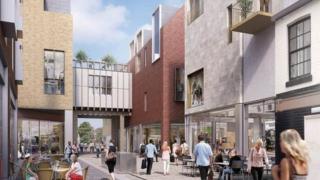 Campaigners have called on Winchester council to apologise for "mismanaging" the £150m Silver Hill development.
Project delays led to the resignation of a council leader and in March the authority terminated its contract with TH Real Estate after it missed the project's deadline.
A planned appeal by the company has now been dropped.
The council has announced a "pause" in the project until after May's local elections.
Councillor Kim Gottlieb started a campaign against the project and said the council's management of the development had been "farcical".
He said: "[This] represents a major missed opportunity to enhance the city's future economic prosperity and to reinforce the city's heritage.
"The time has come for the city council to acknowledge and apologise for its past errors."
'Fresh public engagement'
He added the council needed a new senior management team with more development expertise.
The Silver Hill scheme included 200 homes, shops, public spaces and a new bus station.
Last year the High Court ruled the council had acted unlawfully by allowing the developer to revise the plans without putting the scheme back out to commercial tender.
The ruling led to the resignation of Conservative council leader Robert Humby.
A council spokesman said: "After the election in May, the new administration will look again at central Winchester regeneration.
"This will involve fresh public engagement leading to a supplementary planning document."