East Cowes ferry terminal plan rejected by council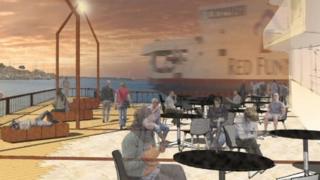 A multimillion-pound plan to extend a ferry terminal on the Isle of Wight has been rejected.
The island's council voted to turn down proposals to expand Red Funnel's facilities in East Cowes on Tuesday.
Councillors raised concerns that more than 100 marine engineering jobs would be lost as industrial units at Venture Quays would need to be demolished.
Meanwhile, a £45m scheme by Wightlink Ferries to upgrade facilities at its Fishbourne terminal has been approved.
Red Funnel said the decision was "very disappointing for the island".
It had maintained the East Cowes Regeneration, scheme, including housing, shops and a hotel, would have created a better first impression for ferry passengers and improve traffic flow.
David Stoddart-Scott of Sustainable Marine Energy, whose factory unit would have been demolished, said: "The innovative marine history of East Cowes is secure. Now hopefully its future is secure because the facilities are not going to disappear overnight and be turned into a parking lot."
Resident John Shaw said: "There's a sense of relief. We've been through hell for the past 16 months."
An online petition opposing the plan gained more than 800 signatories, while a petition set up by the ferry company attracted 1,400.
Red Funnel chief executive Kevin George said the company was considering an appeal or revised application.
"Clearly from the members' perspective, the marine manufacturing element is very important and we'll consider that."
The firm also said it would consider "downscaling" plans for a new terminal at Trafalgar Dock in Southampton.
Wightlink's approved application will allow it to install a double-deck boarding ramp at Fishbourne.
The company, which already has planning permission to enhance terminal facilities in Portsmouth, is also expected to announce details of a new ship in the coming weeks.