Carla Whitlock acid attack trial: Jury shown CCTV footage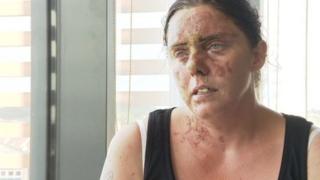 CCTV footage of the moment a woman was attacked with acid, leaving her blind in one eye, has been shown to a jury.
Carla Whitlock was attacked with a drain cleaner containing sulphuric acid in Southampton on 18 September 2015.
Southampton Crown Court heard the acid was thrown in the 37-year-old's face in revenge after a drug deal went wrong.
Billy Midmore, 22, denies causing grievous bodily harm with intent but his brother Geoffrey, 26, has pleaded guilty to the same offence.
Ms Whitlock, a mother of six, also suffered severe burns to her face as a result of the attack, which took place outside Turtle Bay in Guildhall Square.
The jury also saw CCTV footage captured on a train from Southampton Airport Parkway to Basingstoke, which shows the Midmore brothers giving high-fives and fist bumps to a friend.
The trial continues.