Army sergeant wanted to 'scare' soldier with machete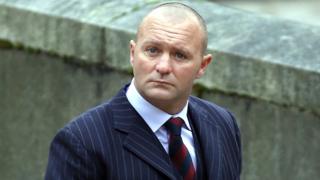 An Army colour sergeant accused of attacking a fellow soldier with a machete wanted to "put the fear of God" into him, but did not want to harm him, a court has heard.
John Norwood, of 1st Battalion Scots Guards, denies the attempted murder of Lance Sergeant James Warnock at barracks in Aldershot, Hampshire.
Prosecutors claim he attacked L/Sgt Warnock, almost slicing his arm off.
Sgt Norwood told his trial a pub row had begun as friendly banter.
He is also accused of attempting to wound another soldier, former Craftsman Nicholas Wood, whose room he went into by mistake and swung the machete on to the bed he was lying in, "shredding" the duvet.
Jurors at Winchester Crown Court previously heard the prosecution describe how the 38-year-old of Priesthill Road, Pollok, Glasgow, "hunted" his victim for 90 minutes.
L/Sgt Warnock, 24, suffered severe wounds to his shoulder, hands and wrist when he tried to defend himself during the incident in his barracks room in the early hours of July 11 2015.
The court heard that earlier in the evening, Sgt Norwood and L/Sgt Warnock had been involved in an altercation in The George pub in Aldershot which ended with L/Sgt Warnock punching the defendant to the ground.
'Intimidation tool'
Giving evidence, Sgt Norwood said he saw it as a "massive disrespect".
"It's unheard of in my line of work for a senior NCO [non-commissioned officer] to be beaten up by a junior NCO, I wanted to minimise the jokes by scaring Mr Warnock.
"I was very foolish and reckless. I was looking for Mr Warnock's room because I was wanting to go and scare him and put the fear of God into him for what he had done to me earlier in the night."
He denied raising the machete, which he described as an "intimidation tool", and told the court he had never intended to kill or harm the junior soldier.
He told the jury he was "taken aback" when L/Sgt Warnock came straight out of the room and started throwing punches.
Sgt Norwood denies attempted murder and an alternative charge of wounding with intent as well as the attempted wounding with intent of Craftsman Wood.
The trial continues.