Cockroaches and 'hazardous food' found on P&O cruise ships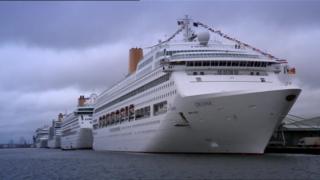 Potentially hazardous food, unhygienic pool water and cockroaches were found on board two Southampton-based cruise ships, a US inspection has found.
Hygiene problems were discovered when Centers for Disease Control and Prevention (CDC) inspectors spot-checked P&O's Oriana and Oceana.
Oceana failed health checks while Oriana passed inspections despite cockroaches being found in a grill.
P&O Cruises said issues on the ships were "rectified immediately".
Swimming and spa pools were closed on the Oceana after inspectors found the water had not been disinfected and contained inadequate levels of chlorine and bromine.
Sandwiches were left to sit in "potentially hazardous" temperatures and one member of staff who was suffering from acute gastroenteritis, which can cause vomiting and diarrhoea, worked with food for three hours, the report found.
Inspectors also urged P&O to "effectively control the presence of insects" after three live cockroaches were found underneath grills on the Oriana.
A P&O spokesman said: 'We are extremely disappointed in the result of this inspection and we immediately rectified the areas identified as needing attention."
More than 400 passengers were confined to cabins on the Oriana due to a norovirus outbreak during a 10-day Baltic cruise from Southampton in 2013.