Cancer patient Craig Bryden's pirate look becomes internet hit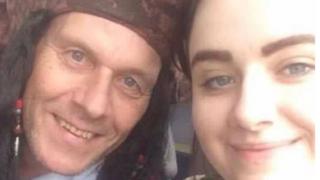 A Falklands War survivor with incurable lung cancer has become an internet hit after going to his first chemotherapy session dressed as a pirate.
Ex-Navy steward Craig Bryden donned his costume on Friday and caught a bus on his way to hospital in Portsmouth.
He sat next to passenger Courtney Jones whose selfie with the 55-year-old has attracted hundreds of comments online.
Mr Bryden, who has been labelled the "Pompey Pirate", said he wanted to put a smile on people's faces.
Mr Bryden, from Copnor, spent 20 years in the navy, surviving the sinking of HMS Sheffield when it was hit by an Exocet missile during the Falklands War.
'Keep me going'
He said: "I've got this inside me and it is going to kill me but between now and then I'm going to embrace life to the full.
"If I can put a smile on one person's face every day while I'm slowly ebbing away it will lift me up and keep me going."
He said he had intended on changing his costume for each session, but the pirate look has gone down so well he is sticking with it.
Ms Jones, whose online post has been shared thousands of times, said: "He got on the bus and everyone stared; he immediately made me smile.
"We got chatting and he went on to tell me how today was his first lot of chemotherapy... but didn't want to go looking like everyone else and just wanted to make people smile.
"I have never felt so privileged and honoured to meet such a humble [and] brave man! You're an inspiration Craig!"