Army sergeant 'half sliced off comrade's arm'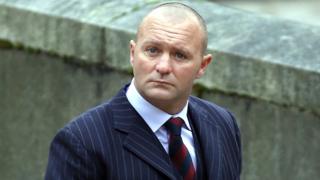 An Army colour sergeant nearly sliced off a fellow soldier's arm with a machete after an argument at a pub, a court has heard.
John Norwood, of 1st Battalion Scots Guards, denies the attempted murder of Lance Sergeant James Warnock in Aldershot, Hampshire.
According to prosecution, the 38-year-old "hunted" his victim for 90 minutes.
L/Sgt Warnock suffered severe wounds to his shoulder, hands and wrist when he tried to defend himself.
'Slashing blows'
Prosecutor David Richards said Sgt Norwood, from Glasgow, initially went into the wrong room at Mons barracks and started slicing the duvet of Craftsman Nicholas Wood, who was in bed but was not harmed.
Sgt Norwood then took the machete, used by the Army to clear foliage, and spent 90 minutes "hunting" his victim, whom he struck with "slashing blows" in the attack in the early hours of 10 July.
Winchester Crown Court heard the pair had earlier had a fight in The George pub in Aldershot town centre.
Mr Richards said L/Sgt Warnock, 24, was slapped by Sgt Norwood in the pub but the two had seemed to settle their differences.
He added: "It's clear the accused wasn't happy after all with the way things had ended with Mr Warnock and he was clearly in a bad mood."
It ended with Sgt Norwood confronting his comrade again, resulting in the younger man punching him twice.
Mr Richards then said Sgt Norwood returned to the barracks, grabbed a machete and went around the barracks trying to find L/Sgt Warnock.
After attempting to defend himself, L/Sgt Warnock "grabbed him in a bear hug, shouted at him to stop and said: 'Look at the state of us'."
The paramedic who treated L/Sgt Warnock described his injuries as a "half sliced-off arm".
Sgt Norwood denies attempted murder and an alternative charge of wounding with intent as well as the attempted wounding with intent of Craftsman Wood.
He also claims L/Sgt Warnock "bottled" him in the pub.
The trial continues.