Top priority - getting the bins right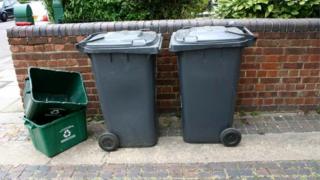 It's the big bin delivery!
The Isle of Wight Council is used to organising collection of recycling and rubbish, but now it is switching to wheelie bins and it has got to work out a way to get at least one, maybe two bins, to every household.
The whole process will take more than a month, and contractor Amey has brought in a specialist company which just completed the delivery of 1.2 million bins in Birmingham.
Amey's Paul Southall said: "Delivering every household on the Isle of Wight a new black bin and green bin insert or a pack of gull proof sacks is a major task.
'Gold stars'
"The deliveries will follow the 10 different collection routes, so properties in the west of the island will begin to receive their bins first."
The island also runs a food collection service, with food caddies already delivered.
Then there's the green waste...
No wonder councils like the New Forest are consulting on ways to reduce the cost of household waste collection and disposal.
But it's the biggest thing people associate with the council. So getting it right is important.
In Cardiff, protesters dumped their new wheelie bins back at the council saying they were too big and "ruined" the look of some neighbourhoods, especially where they had been delivered to flats and houses without gardens.
In Bournemouth, when people realised electronic chips had been fitted that could be used to monitor recycling they started ripping them out.
Perhaps all councils should follow the lead of a Sussex council, which is rewarding people who recycle well by sticking a gold star on the bin.